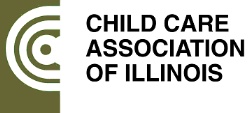 413 West Monroe, 1st Floor, Springfield, IL 62704
Phone: (217) 528-4409 FAX: (217) 528-6498

Margaret M. Berglind, President and CEO


The Child Care Association of Illinois (CCAI) is the premier state association that builds public support for addressing the needs of children and families. CCAI takes a strategic approach to achieve its core objectives in the Illinois child welfare, mental health, and special education systems:
To build an effective, and efficient service system that operates in the best interest of the children and families.

To advocate for sufficient financial resources to support these services in both the public and voluntary sectors.

To ensure that enough qualified, trained personnel are available for the delivery of needed services.

To ensure that the beliefs, interests, and experience of voluntary sector agencies are heard and incorporated into planning and programming for the full range of children's services.

To educate and elicit the support of the public and state leadership about existing and emerging needs of children and families in Illinois.
Established in 1964, the Child Care Association of Illinois is dedicated to improving the delivery of social services to the abused, neglected, and troubled children, youth and families of Illinois. The Association strives to achieve these goals through:
CCAI members are agencies that provide services to children, youth and families in the areas of child welfare, child mental health, juvenile justice, residential youth care and special education. Organizations with similar policy or research activities and university programs preparing students for social service are also members. read more...